Investment environment in Kitakyushu
About Kitakyushu city
Securing personnel · Science and Research Park
Stability in Securing Personnel
Kitakyushu has a population of approximately 1 million people which increases to 2 million when taking into consideration those within commuting distance of Kitakyushu in the surrounding towns and cities.
Assurance of a Stable Abundance of Science and Engineering-based Personnel
Fukuoka Prefecture, the location of Kitakyushu City, boasts a large number of graduates from top-class nationwide universities in science and engineering, technical colleges and industrial high schools next to the Kanto and Kansai regions. A stable supply of personnel is possible due also to the many education institutes gathered in Kitakyushu City and the surrounding regions.
Educational institutions in Kitakyushu city and neighboring municipalities
Map showing the educational institutions in Kitakyushu City and surrounds.
(Science and engineering graduate schools, universities, industrial high schools, etc.)
Science and Engineering
Universities and Graduate Schools
Medical Universities
Industrial High Schools
| | | |
| --- | --- | --- |
| Business and Trade High Schools | Technical Junior Colleges | Science Vocational Schools |
Information and
Communication Technical Colleges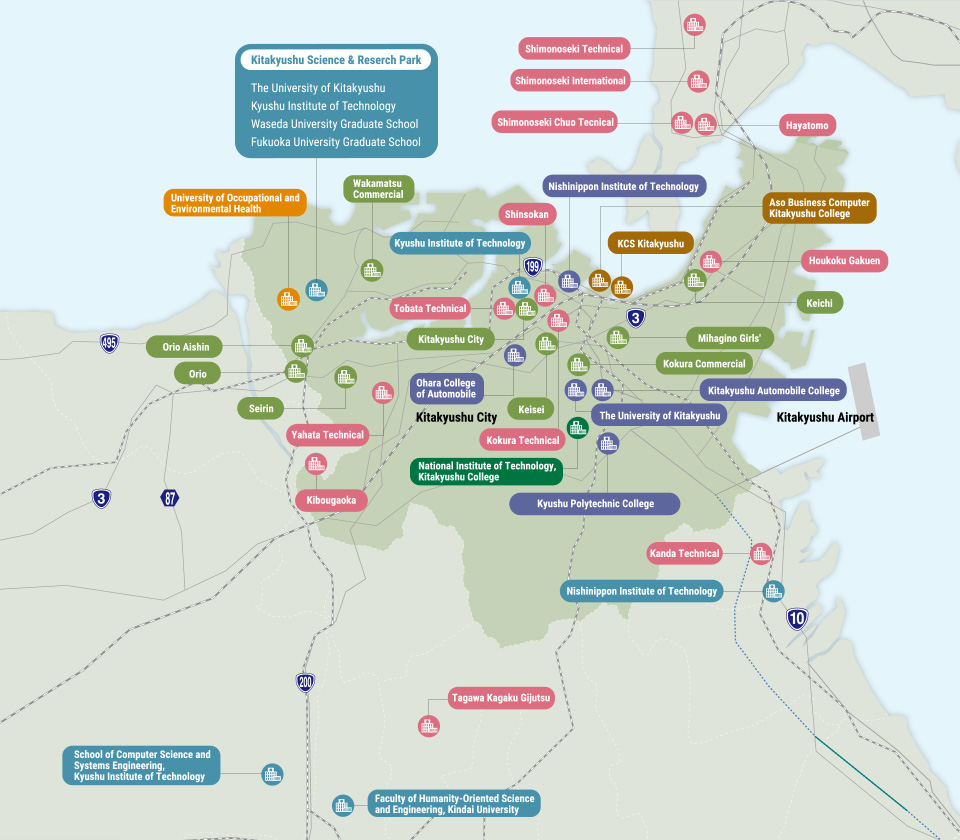 Kitakyushu Science and Research Park
In 2001, Kitakyushu City established the Kitakyushu Science Research Park as its intellectual foundation for further development as an industrial city.
Kitakyushu Science Research Park has formed a single campus including three science universities: national, public and private, and research institutes. It integrates the research of 2,401 students (621 international students), 165 teaching staff, 191 researchers, and 46 companies.
Kitakyushu Foundation for the Advancement of Industry, Science and Technology (FAIS) utilizes this integration and serves as a coordinator of industry-academia collaboration, and supports research and development with universities, research institutes and companies in Japan and overseas.