Investment environment in Kitakyushu
Abundant industrial land
Large Scale Industrial Lands
Starting New Business
By combining logistics infrastructure of land, sea, and sky, you can secure various means of distribution and enjoy one-stop support from the city when establishing a business here.
Industrial Land Corresponding to the Needs
Kitakyushu – a city with an abundance of high-quality talent.
Logistics is guaranteed in a city crisscrossed by an expressway road network, and with various other means of transportation such as rail, large harbors, and an island airport. It is the perfect location for a manufacturing and distribution base. To realize these opportunities new land developments are increasing. We will respond to your needs and back-up your new business started here.
Speedy Response for Rental Properties
We can suggest properties available for long-term lease. We work together with real estate experts and use city information to promptly provide you with rental factories, warehouses, and office space in response to your requirements.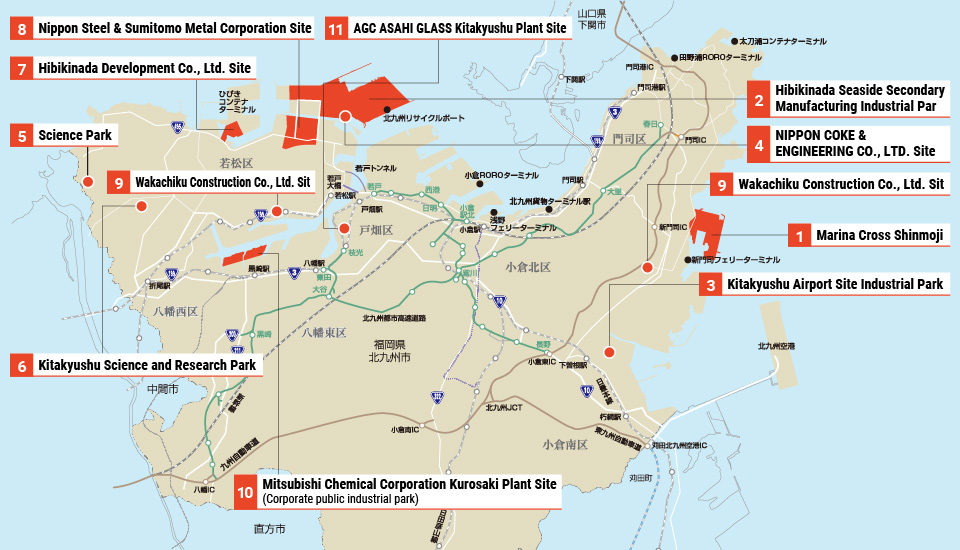 List of Industrial Land Sites
City owned 1 - 6  
Corporate owned 7 - 11
Click on the picture for more information